Wednesday
The company's emergency response plan was set up in the wake of Hurricane Katrina, which destroyed seven Waffle House restaurants and forced 100 more to close in 2005. Since then, Warner says the company has invested heavily in its emergency response technology and deployment systems. When a major storm is in the forecast, Waffle House vehicles—known as "jump teams" or "go teams"-- are deployed from headquarters to the edge of emergency zones so they can come in as soon as the worst of the storm is over and begin necessary repairs or provide assistance. Warner says restaurants that remain open will be serving the chain's most popular items including eggs, waffles, sausage, chicken sandwiches and burgers. Paring down the menu helps busy restaurants serve more customers and gets people in and out faster. This week, Warner is hoping for the best but says his restaurant teams are prepared for the worst. "A lot of times, especially after a big storm, we're the only ones still open because we've got generators," said Warner. "Right after storms, business is brisk. We have a lot of people come in and are only able to get their first hot meal at a Waffle House."
Howard Stern is not happy with CNN.
The Sirius XM host slammed CNN for reporting he "confirmed" Donald Trump had supported the Iraq War in 2002. Stern claimed CNN took his words out of context when they published an article with the headline "Howard Stern says Trump backed Iraq War in 2002" last week. "I got so upset because, you know, let's face it, tapes from our show featuring Donald Trump have been used in the campaign," Stern said during his Monday show. "And the other day I was talking to Robin [Quivers] on the air, and I said to her, 'Yeah, you know it was really surreal sorta laying there in bed watching them mention my name on the debate.' And I said, basically for people who might not be aware, I said, 'Yeah, Trump was on our show, and he was talking' — I asked him about the Iraq war, and he said that he was for it. He continued, "So, then there was a big screaming headline on CNN: 'Howard Stern Now Confirms'...This was on CNN...I said nothing new. And so I emailed Trump and I wanted to explain to him that, uh, that is not what I said." Stern added that the only thing he will confirm is that the tape is from his show. "That much I can confirm. That's all I was saying. That's why they mentioned me at the debate. But I don't know how CNN came up with that headline." Trump appeared on Stern's show in 2002. He was asked if he supported the Iraq War to which he tepidly responded, "Yeah, I guess so." NBMC comment: CNN constantly goes after Donald Trump on a daily basis. Their bias against Trump really shows. In contrast, Hilary Clinton is almost always praised.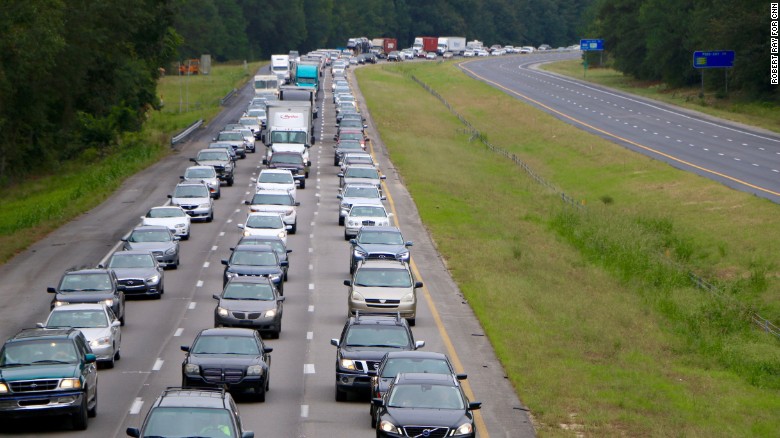 There were traffic jams on I-26 as far west as Columbia, South Carolina. Later today the
Governor
of Florida made all Freeway lanes one way heading North to make evacuation run smoother.
As Hurricane Matthew barreled up the Caribbean Wednesday, people along the Atlantic coast from Florida to South Carolina prepared to move to safer ground, as officials warned that hundreds of thousands of people would have to evacuate.
South Carolina Gov. Nikki Haley announced plans starting Wednesday afternoon to evacuate a quarter million people, not counting tourists, from its vulnerable coastline. Officials in central Florida's Brevard County on Wednesday ordered residents on barrier islands and in flood-prone areas to pack up and get out.
Florida Gov. Rick Scott said his state could see its biggest evacuation ever. "If you're able to go early, leave now," he added.
Matthew was a dangerous and life-threatening Category 3 storm with sustained winds of 120 mph, and it was expected to be very near Florida's Atlantic coast by Thursday evening.